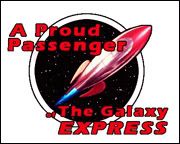 Special thanks to Heather Massey at Galaxy Express--the best Science Fiction Romance site

evar

--for linking to my blog, inviting her readers to check out my free chapters of

The Z Word

.

Heather also posted newly released and upcoming titles of new and established 'skiffy rommer' authors' new books. Other earlier titles can be found here. Check 'em out!

Thanks, Heather!